Lovely Words
Emma is truly one of the best celebrants in Melbourne and it's clear to see she loves what she does! I have known Emma since my days organising events at Port Phillip Estate and as soon as Luke and I were engaged, we contacted Emma and were lucky enough to book her for our wedding! From start to finish Emma was friendly, warm and highly professional. She has all the tools to get you ceremony ready and is there to support and help every step of the way. Seeing Emma on our wedding day only brought a sense of calm to both Luke and I (which people definitely underestimate). Her delivery of our ceremony was bright, personal and fun – she truly makes you feel this ceremony is all yours! Thank you so much Emma – we could not have wished for a better person to share this incredibly important and special day with us.
GEORGIE & LUKE

---
We feel so incredibly lucky to have had such a beautiful soul marry us in March. Emma was such a fantastic celebrant! From our first meeting, to countless emails, and then meeting myself and my bridal party at the wedding venue on the day prior to our wedding because us girls were totally freaking out about the ceremony (keeping us calm and reassuring as that we would be ok haha, to the most important day of our lives…our wedding day. Emma truly made our whole experience so enjoyable, sentimental and memorable!! Thank you, Thank you, Thank you!! X
JESSICA & RICHARD
---
Oh Emma we just ADORE you, you truly made everything so perfect, you went above and beyond we honestly could not be happier. The ceremony was everything we imagined and more! We feel that it was the perfect reflection of the both us, so in love yet light hearted and enjoyable to watch. You really did make it perfect.
EMMIE & TIM
---
Emma, you are such an amazing celebrant! From our first meeting we felt so comfortable with you and you made the whole process so easy for us. The ceremony that you put together was so thoughtful and you told our story so beautifully with just the right amount of laughter and tears. I have never heard guests rave about a ceremony so much at a wedding, everyone who was there felt the love and were so impressed with how you made the ceremony reflect exactly who we are as a couple. The ceremony really set the tone for the rest of the day and most definitely got the day off to the perfect start. Could not recommend Emma more highly.
CHRIS & SARAH
---
Emma was beyond amazing as our celebrant down at Cape Schanck for our wedding. She came highly recommended from our venue and close friends and she did not disappoint. She was incredibly supportive and helpful leading up to the big day. She was so relaxed, professional and organised on the day. She spoke clearly, was funny, engaging and just the perfect person to run our ceremony. If you are wondering if you should book her, then the answer is definitely YES! You will not regret it. You'll be in amazing, professional and nurturing hands.
JACQUELINE & JAMES
---
Emma was absolutely amazing on our wedding day, we are so happy to have her as our celebrant. From start to finish Emma was personable and professional and everything was so easy. Emma made our ceremony really fun and heartwarming. I would highly recommend Emma as your celebrant, we just wish that we could do it all over again. Thank you again Emma.
KELLY & ROB
---
Emma was the perfect celebrant – relaxed, funny, considerate, warm. The entire process of designing our dream ceremony with her was effortless and fun. She made a genuine effort to understand us and tailored a ceremony that was completely reflective of us. Our guests assumed that Emma was a friend of ours as there was a visible chemistry and ease between us and her. She was a delight to work with. We hope every couple gets the opportunity to work with a celebrant of Emma's calibre!
BRIDGET & JOHNNY
---
Emma is amazing! When she sent me my ceremony draft I laughed and cried while reading the most amazing ceremony. It was all I could have dreamed of and more. She surprised me so much. There was one of my guests that asked if she was actually a friends of ours as she seemed to know so much about us. Everyone thought it was an amazing ceremony and I am so glad that we had Emma as our celebrant. I highly recommend Emma, she made me feel so relaxed and confident since the first time we met. I give you 10000 stars Emma, thank you for everything.
AMANDA & RYAN
---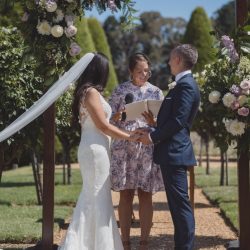 Emma was great to work with, not only did Emma help shape our ceremony the perfect way, she ensured that on the wedding day we remained stress free and that everything went down without any hassle. Highly recommend if you want to make your special day a little more special.
DAMIEN & CATHERINE
---
Wow wow wow is all I can say to you! Your ceremony that you provided us with was just absolutely the most creative and personal ceremony. So many people have asked us if you were a friend In our family because you seemed to know us so well. We can't thank you enough for making our day so perfect! The time and the effort you gave us was remarkable.
NIKKI & SHELL
---
Emma is outright amazing! We had a vision of what the perfect celebrant would be like to suit us and Emma is the whole package. Her assistance and advice throughout the entire process was absolutely amazing. She went above and beyond our expectations. Emma assisted us with any queries we had, made what seemed hard, very easy and most of all created a positive energetic vibe at our ceremony which directly reflected who we are as a couple and individuals. Our guests were so impressed! Thank you Emma for making our day perfect and everything we hoped it would be.
BREANNA & ROSS
---
Emma will make your day! Both Shane and I were nervous about our ceremony when we decided to get married. Being light hearted and pretty down to earth people we wanted our ceremony to be us. Emma provided us with all of that and so, so much more! Instantly after meeting her, we knew she was the one. She is talented, smart and kind. Guests commented that the ceremony was one of the best highlights of the day. For us, she was an absolutely dream boat and made our day extra special! We can't thank her enough.
BRYONI & SHANE
---
We feel so so lucky to have had Emma as our celebrant for our special day! My (now) husband and I knew from the minute that we met Emma that we wanted her to officiate our wedding. She was so easy to work with, bubbly and kind and went above and beyond. Our ceremony was beautiful and so "us" thanks to Emma! So many people were commenting on our ceremony for days and how awesome Emma made it!
ASH & ALEX
---
We are so incredibly happy that we chose Emma to be our marriage celebrant. She put together such a beautiful wedding ceremony that truly captured us as a couple! It was everything we envisioned it to be and more! Every interaction we had with Emma leading up to the big day was wonderful and she did an excellent job at making us feel comfortable and prepared for the day. We had so many comments from our guests about how beautiful the ceremony was and what an amazing job Emma did. We are so glad she was a part of our day and couldn't have pictured it any other way! If you are getting married do yourself a favour and have Emma as your marriage celebrant!
MADELEINE & DANIEL
---
I met Emma at the Mornington Peninsula Wedding Expo. Emma was coincidentally speaking with two old friends who had already booked Emma for their ceremonies. They introduced us and the rest was just a breeze! Emma was so friendly and easy to work with. She instantly made my new husband and I feel at ease (as we had no idea what we were doing haha). We booked Emma super early prior to our wedding and over that time Emma was easy to contact and she worked with us ongoing to create the most personalised, emotional and a ceremony full of love. I can't count on my fingers how many of our family and friends asked where we found Emma as they were so impressed at the amazing ceremony she produced for us. Matt and I are so grateful that we met and booked Emma. We couldn't have asked for a more perfect ceremony. Thank you Emma!
SARAH & MATT
---
Thank-you so much Emma you did such a fantastic job! Our wedding ceremony was perfect and we have you to thank, you helped make it so happy and joyful I could not stop smiling the whole time! I loved the most how you made it suit our fun and easy going personalities! You made all the planning so relaxed and easy for us as well!  Our friends and family were all very impressed and enjoyed every minute.
LUCY & TIM
---
Working with Emma on our wedding celebration was fabulous. Her knowledge, attention to detail and calm approach to our impending nuptuals helped to guide us from start to finish. With her sunny disposition, exuberant warm and sense of humour she created a wedding celebration that captured us exactly. There was rapturous laughter, tears of joy and a big sprinkle of romance throughout the ceremony as we shared our thoughts, hopes and dreams with our guests. Thank you Emma for making our day fun, romantic and memorable.
EMMA & DAVID
---
Our whole experience with Emma was amazing. From our first meeting with her, we knew she was the perfect celebrant for us. She was kind, considerate and genuinely cared so much about creating the best marriage ceremony for us. Her down to earth nature and great sense of humour made all our preparations fun and exciting! On our wedding day, Emma made all our guests feel so connected. Our ceremony was the perfect mix of sensitive and heart felt moments as well as a few laughs. Emma told our love story brilliantly and we honestly couldn't have imagined it any other way.
TAMARA & BREK
---
I can't thank you enough for everything you have done for us over the last few months and most importantly, thank you for our ceremony on Friday!  Every time I think about it I feel like my heart's about to explode!  It was so perfect, start-to-finish thanks to you and your amazing energy and nurturing approach. You took so much time even beforehand to make sure we were comfortable and happy with the entire process and I'm so grateful! We are so grateful
If you had a dollar for every positive review you received you would have [at least!] $90 from our ceremony alone. I wish I could have taped them all for you to hear because it would be an amazing feeling to be as good at your job as you are passionate about it. Mitchy and I could feel all the love from you and so could all of our guests. There aren't words, really. You are such a warm and lovely person and both Mitch and I feel so lucky to have had you lead us into our next big chapter.
MOLLY & MITCH
---
Emma has such a warm, friendly, happy, easy going nature that makes you immediately feel like everything is going to run smoothly.  We actually felt like we had one of our friend's marry us to be honest! Her delivery is so personal and authentic making everyone involved feel very special. Nothing was a problem from day one with Emma always responding to my emails promptly and offering loads of advice.  We had so many people at the wedding came up to us and say how fantastic Emma was and what a perfect profession she has chosen for herself.  Even the Entertainment were delighted when we said who our Celebrant was and they only had positive words to say about working with Emma.. We believe that to be a great testimonial in itself! Pete and I HIGHLY recommend Emma to deliver the perfect wedding ceremony with warmth, enthusiasm and excitement!
KERRYN & PETE
---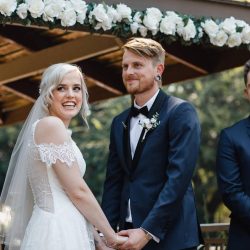 Kaden and I felt so lucky to have such a fantastic celebrant. You created such a beautiful ceremony for us that really reflected who we are and our relationship. The lead up to the ceremony was so smooth and easy thanks to your work and on the day you were such a calming presence (particularly during the emotional bits!). We never felt unsure of what to do thanks to your instruction. Many of our guests commented on how wonderful you were and how beautiful the words of the ceremony were. We honestly cannot thank you enough for how special you made our ceremony!
KADEN & TRELAWNEY
---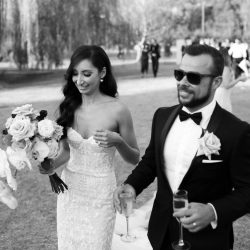 You feel like family to us – we couldn't think of a better person to have married us and shared in such a beautiful moment with us. You were perfect – faultless and so welcoming! We feel like the formalities were made casual and meaningful, because of your delivery! I'll always remember opening the door of the car and you checking to see if I was okay – these are the tiny thoughts I'll remember for life.
SAMM & JAMES
---
So many of our guests have said how lovely you were and how brilliant they thought the ceremony was. How lucky were Kyle and I to find you and have someone who created a service that truly reflected our relationship!
From the get-go you made us feel more comfortable and relaxed about the ceremony, and with what feels like little input from us, you created a beautiful personalised ceremony that suited us and reflected who we are as a couple. Your presence during the ceremony was calming and instructive – we never doubted what we needed to do or say. You made it such a wonderful experience; not only for the two of us but for everyone present. We have received compliments from many of the guests, praising you for the way you conducted the ceremony.
KYLE & BEC
---
Our day was the most perfect day and a big part of that was you! Thank you so so much for being our celebrant, you're such a talented women who summed up our ceremony in the most relaxed, funny and cheeky way which is exactly what we wanted! (What a laugh) We had many wonderful comments about you and all we can say is that we are so glad we chose you!
JACINTA & PETER
---
Thank you so much for all your hard work on Friday and sticking it out in the heat with us! Kristian and I were saying that we just felt so much more relaxed with you, Emily and the Baths staff. You guys were all just totally professional but so friendly and that made us feel so much more relaxed – as much as we could there were a few nerves and emotions throughout the day! We had so many people come up to us and compliment our ceremony saying it was the most genuine and heartfelt wedding they had been to and that you delivered it so beautifully – your love and passion for what you do really shines through! It was so nice keeping some parts a surprise for the day! I think we also were so happy we caught up the day before for a rehearsal – again it just made us far more relaxed that all the pieces would fall into place on the day!
EMMA & KRISTIAN
---
I just wanted to take the time to send you a quick email to say thank you for being our celebrant on Saturday. You really do have a natural way to help keep people calm and crack jokes in the moment to ease any nerves! I was so paranoid that I would do the classic 'I Ross take you Rachel' but you made me feel completely at ease through the ceremony. You are so friendly and easy going, and now I can see why you get so many great reviews!
ANDREA & LUKE
---
Thank you SO MUCH for help making our day absolutely amazing!  Could not have asked for a more perfect day – everyone had a blast and we got so many comments on how awesome the ceremony was!  You set the tone exactly how we imagined- full of fun and laughter, lighthearted with a little bit of cheese! A bunch of people actually asked us if you were a friend of ours! We both think that speaks volumes for how wonderful you are and we couldn't be more grateful!
CLAIRE & JARRAD
---
From the moment we met with Emma, we knew we HAD to have her as part of our special day. Emma is friendly, kind hearted, passionate and has the most infectious smile ever. We were most nervous about our ceremony, and wanted it to be a light hearted and love filled occasion.
Emma wrote us the most beautiful ceremony, as if she had known us forever. The "scariest part" of the day felt easy, effortless and much to our surprise was fun! What we didn't realise was how much time, effort and sincerity would go into creating a masterpiece of a ceremony for us. For anyone who has ever thought the ceremony doesn't matter as much, I can honestly say that it matters the most!
Emma set the tone for the rest of our magical day, and it really was our BEST DAY EVER. We have had endless feedback from friends and family who were just as blown away by Emma's natural, relaxed and light hearted approach. We cannot thank this wonderful woman enough for playing such a big part in our special day.
My husband and myself would not hesitate to recommend Emma to anyone, she really was one of the best decisions we could have made.
SAMMY & JARRYD
---
Emma was an absolute delight to work with from start to finish. She made us feel so comfortable at our first meeting we didn't bother looking at anyone else after that and booked her on the spot! Emma listened to what we wanted for our ceremony and even let us write our own script. We had an absolute blast at our ceremony and Emma delivered the ceremony beautifully. Thank you Emma for being part of our special day! We have received such lovely feedback from family and friends about the service which is always nice to hear too!
SARAH & TIM
---
Our ceremony was everything we thought it would be – actually, it was so much better then what we thought it would be! You were truly amazing to work with, it was such a pleasure having you marry us. You made us feel so comfortable & at ease with sharing our thoughts and feelings with the vows & you created the PERFECT ceremony for us. We felt so much love – and I am so happy that we had you there as a part of it.
SAM & AMIE
---
I cannot express how amazed I am by what you did for us. All night we had people coming up to ask how we found you and that it was the best wedding ceremony they had ever been to! You were so amazing and calming for me as I had hit full panic mode an hour earlier. No runaway bride nerves, so thank-you Emma, you are so amazing. I thank you from the bottom of my heart.
LYNDALL & ADAM
---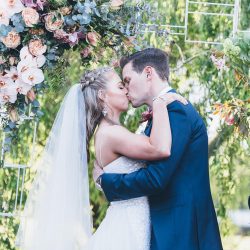 We really can't thank you enough for creating the most amazing ceremony for us. Your enthusiasm definitely won over our guests and everybody was raving to us about how perfect and enjoyable the ceremony was. You really are the best in the business. James and I are forever great full and honoured that you were able to do us the honour of marrying us and making it official.
BRIANNA & JAMES
---
We loved every minute of the ceremony and your dedication to your 'craft' is remarkable. You made us feel so at ease and it was wonderful! We can't thank you enough for making the ceremony go so smoothly. The lead up to the wedding was so easy as you were always one step ahead and so organised. This eased my nerves and made us feel like we'd 110% made the right decision with our celebrant…even though when we met you we knew you were 'the one!'.
GEORGIE & CHRIS
---
Emma you are an absolute gem at your job. You were so relaxed throughout the whole ceremony that it made myself and Luke feel relaxed the whole time. We are so happy that we chose you to marry us, I would recommend you to anyone. Thank you again.
EMILY & LUKE
---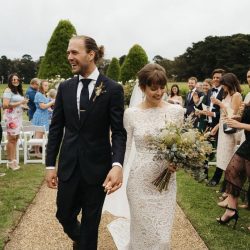 Thank you for such a wonderful ceremony Emma! You brought so much energy and set a perfect tone for our day. Not only did you get all our guests laughing and joining in our story, you made us feel so relaxed in front of everyone because we knew you had every little detail covered.
TESSA & RUSSELL
---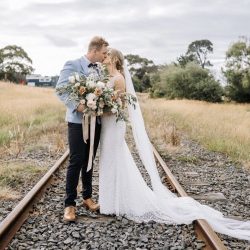 Thank you so much, everyone hasn't stop commenting on how great the ceremony and you were! So many said it's the best ceremony they've been to. You made Andrew and I feel very relaxed and the light-hearted jokes really made us feel comfortable.
EMILY & ANDREW
---
Carl and I want to thank you for doing such a wonderful job and being such a calming, professional, warm, eloquent and perfectly dressed presence on our wedding day. I really couldn't fault you and would highly recommend you to anyone. My parents were impressed with you – they are religious people and I never would have expected for them to be so complimentary about a celebrant but they commented that you were "the best one I've seen" and that you "made everyone feel welcome" and "didn't make it about you". We're so happy to be married and glad you were the one to do it, even calming Carl down as he prematurely popped the ring on before the vows!
SARAH & CARL
---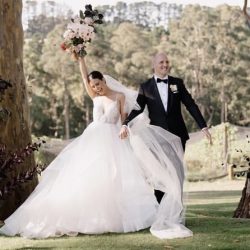 Thank you so much for everything over the past two years! It's been a rocky road but we certainly got there in the end. You have been so accommodating with all the changes during COVID and just an absolute dream to work with. You delivered an incredibly ceremony that got our guests laughing whilst also making Jack and I feel cool, calm and collected! Thanks again for everything, we will always remember our special day made possible by your amazing celebrant skills.
BREANA & JACK
---
Emma was excellent and the ideal person to have as our celebrant. She was everything you would love to have in a celebrant – professional, warm, organised and good fun. We just knew Emma would have everything under control from the moment we connected, and she did! Ensuring that our wedding ran seamlessly and that it was special for us. Thank you Emma for helping us to come together as husband and wife with love and joy.
ANGELA & MATT